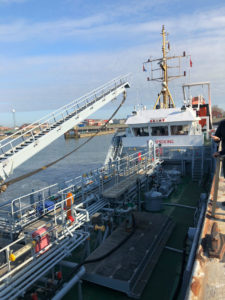 Only red diesel EN 590 / LSMGO for commercial shipping is offered.
The current price is available on request at info@bunkerstation-borkum.de
The max. Storage capacity is currently 750,000 liters LSMGO, expandable to 1,500,000 liters.
Prior to the first refueling, customer registration and transmission of the tax-exempt energy-related products must be carried out, including briefing of the customer's tank personnel, delivery of the main door access code and the transponder for the particular ship and person responsible.
The minimum order quantity is 1,000 liters.
The delivery is between 125 L / min., 250 L / min. and 500 L / min. selectable.
Currently 1 ship can be refueled at the moment.
Another delivery point is planned at the pier.
The target depth at the Oostkaje is currently (04/2018) about 4.00 meters at NN.
Further information and registration at: i.helmers@bunkerstation-borkum.de.
Opening hours: 24-h, 365 days / year
This makes our tank facility the most powerful facility in Borkum's protective harbor.
Thanks to the double filter technology on the delivery module, we can guarantee a 100% purity of the fuel at all times.
We would be happy to count you among our customers in the future.